Welcome to Indian Society for Radiation and Photochemical Sciences (ISRAPS)
Indian Society for Radiation and Photochemical Sciences (ISRAPS) is a scientific organization, established in 1984 with the following objectives:
To promote education, research and applications in radiation and photochemical Sciences in India.
To popularize radiation and photochemistry in general.
To interact and coordinate with industry to catalyze the growth of industries based on radiation and photochemical processes.
To interact with other societies or associations, both in India and abroad having similar objects for mutual benefit and to conduct joint scientific programmes.
To publish newsletters, journals, bulletins, books, and other forms of communication to highlight the research activities of the members of the society as well as the new developments taking place elsewhere in the field of radiation and photochemical sciences.
To encourage students and research scholars to devote themselves to pursuits in radiation and photochemical sciences by providing travel grants, awards or other support.
To undertake or to do all such other things as are necessary or convenient to be done for or in connection with or as incidental to the furtherance of the objects of the society.
To recognize and honour lifetime achievements in radiation and photochemical research through felicitation of the prominent scientists (or achievers), awards, etc.
Upcoming Events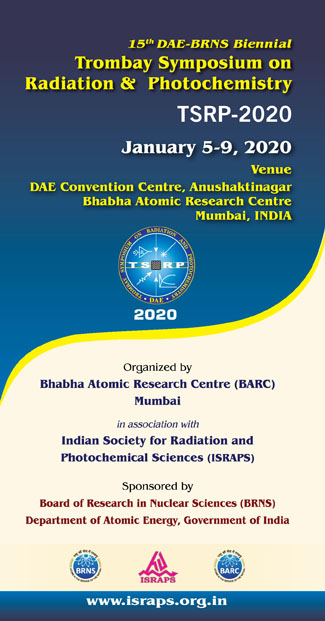 TSRP-2020
January 5-9, 2020